The PalletPal 360TM platform is a device that automatically maintains the weight/package at the ideal height for the manual loading and unloading activities. When a pallet is placed on the device, the platform will automatically adjust it's height, lowering as the boxes are placed on it. This feature allows maintaining the boxes at a correct working height.
This automatic load leveler uses a system of springs and shock absorbers to lower and raise loads as boxes are added or removed from pallets. A turntable allows nearside loading and unloading. No power or air supply is required. Pallet loads up to 4,500 lbs can be handled.
The platform can be moved/relocated easily by fork truck, because the base of the platform includes fork pockets.

OPTIONAL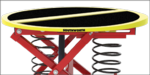 Phenolic coverSits above the palletizer, but under the turntable ring. Keeps debris from collecting under the unit.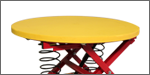 Solid disc coverSolid steel disc cover in place of open turntable ring. Ideal for damaged pallets or small / odd sized pallets or skids.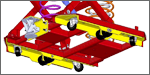 Fork pocket caster kitMounts under unit in fork pockets to allow palletizer to be portable. A foot operated floor lock keeps the unit from rolling when in use..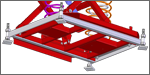 Leveling feetFor use on uneven or damaged floors. 4 adjustable screw feet can be independently adjusted to ensure the palletizer is perfectly level.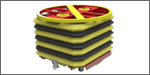 Bellows accordian skirtingBlack and yellow vinyl skirting wraps entire unit to keep underneath free from debris. Pleats expand and contract as unit raise and lowers.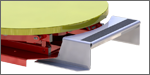 Access stepHandy step slips into fork channels to give shorter workers better access to the top of loads. Non-skid surface.
Square turntable platformsUnits can be equipped with a square turntable instead of the standard ring. Use with small or odd shaped skids or pallets.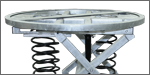 Special finishes / materialsPalletPal 360 is available with a variety of custom finishes including special paint colors, chemical resistant coatings, two-part epoxies, hot-dipped galvanizing. Stainless steel construction is also available.
OTHER AVABILE VERSIONS